Top Dental Clinics in Dubai for Painless Dentistry
Orthodontix dental Clinic is an advanced, state of the art dental clinic located in the heart of Dubai near Deira City Centre. We are one of the top 3 dental clinics in Dubai offering highly advanced dental treatment & premium dental care. Our goal is to provide world- class dental treatment at affordable cost. We focus on creating a calming and relaxing environment to make you feel comfortable in the dental chair.
With highly experienced dentists at Orthodontix Dental Clinic, you can rest assured that you will get the best possible dental care you seek in Dubai. As an emergency dental clinic in Dubai, we help relieve your pain quickly. We try to schedule emergency appointments even during our busy schedule to help our patients.
Thanks to our valued patients' reviews and recommendations, we are arguably regarded as one of the best dental clinics in Dubai, offering dental services with an easy payment plan for braces treatment.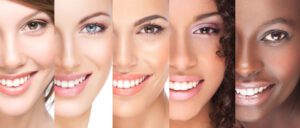 Patient comfort is our priority, be it any dental procedure including RCT and wisdom tooth removal. Dental extractions are no longer painful like before as new topical anesthetics are available, which can even numb the pain of needle pricks while giving injections.
Root canal therapy has gone high-tech recently, making the procedure as easy as possible for both patients and dentists! Thanks to recent root canal technology, teeth can now be treated without invasive dental surgery. With modern dental instruments and advanced techniques, dentists have more resources than ever to complete successful root canals, and patients can have the procedure done in just one visit — virtually pain-free!
Dental technology has produced the following advancements in root canal therapy:
Nickel Titanium Files — Stainless steel files used to clean out the root canals were susceptible to breakage and limited the amount of infection that could be removed. Now, dentists use nickel titanium files, which are more flexible with less breakage.
Anesthetics — Current local anesthetics make it easier to numb the entire tooth, so patients don't feel any pain during the procedure. There are also more sedation dentistry options for fearful patients, including nitrous oxide and oral sedation.
Modern Dental Instruments — New high-torque motor hand pieces are much stronger and faster than before, enabling dentists to have more control over their dental instruments and better shape the root canal. Ultrasonic instruments are also being used during the root canal procedure — they produce ultrasonic vibrations to clean the root in preparation for the filling.
Schedule an appointment with one of our experienced dentist at Orthodontix Dental Clinic, Dubai!