Lingual Braces Treatment in Dubai
The popular lingual braces system are Incognito and Harmony. These are braces which are attached to the back side of your teeth. These are the old generation "invisible braces" or "hidden braces" which cannot be seen in your mouth easily, unless of course if you yawn wide!
The Incognito system consists of fully customized brackets, arch wires and bonding trays to deliver predictable treatment out comes. These cost of lingual braces in Dubai is between AED 25,000 to 30,000. The reason why these customized lingual braces are expensive is because, they are customized to the unique prescription of each patient and are manufactured by Rapid Prototyping, CAD CAM milling technology.
These are NOT truly invisible and were in high demand before the advent of the NEW GENERATION invisible braces like INVISALIGN. Today, they are not the first line of solution for patients seeking "invisible" ways of correcting their irregular or overlapping teeth as advanced braces solutions have already entered the market in a big way!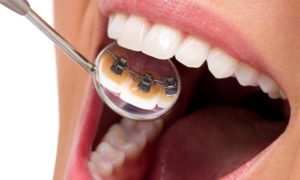 ADVANTAGE OF LINGUAL BRACES:
The main and only advantage of lingual braces is that they are fixed on the lingual aspect of your teeth and are hidden away from direct vision of your friends!
DISADVANTAGE OF LINGUAL BRACES:
Most patients complain of difficulty in talking clearly for the first few months after the braces are fixed.
It takes time for your tongue to get used to the lingual braces. It is difficult to keep your tongue away and prevent it from playing with your braces.
Frequent ulcerations and lacerations of the tongue is quite common.
Arch wire poking injury on the tongue is seen very often.
It is highly uncomfortable while eating and you need to avoid certain foods.
Frequent bracket breakages and bent arch wire is quite common while eating hard foods.
The lingual braces are custom made for your teeth and are very expensive.
Comfort level is much lower compares to "truly invisible braces" like Invisalign.
Schedule an appointment with Dr. Nazeer, to know more about the Lingual Braces!