What is a dental implant?
Dental implants are artificial teeth that are placed into your jaw to hold a replacement tooth or bridge. Dental implants may be an option for people who have lost a tooth or teeth due to periodontal disease, an injury, or some other reason. With good oral hygiene maintenance, dental implants can last a lifetime. They are completely secure and will allow you to  smile, speak and eat again with comfort and confidence. Dental implants price start from 4000 AED in our clinic.
An entire tooth can be replaced with a standalone implant and crown fixed together. This method does not require your healthy adjoining teeth to be damaged. Standalone implants are anchored to your jaw bone where it will fuse and provide stability to the crown that will sit over it. The entire process takes about three months to complete, giving the jaws time to heal.
The ideal candidate for a dental implant is one who is in good general and oral health. Diabetes control is important before implant placement, to ensure treatment success. Adequate bone in the jaw is needed to support the implant along with healthy gum tissues that are free of inflammation.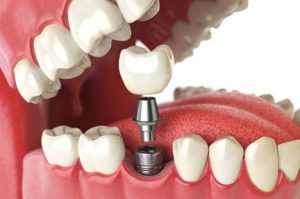 When to consider Dental Implants?
Missing single tooth or multiple teeth.
Anyone with good gum health and the jaw has finished growing.
When cutting or filing down good teeth for a "bridge" or fixed partial denture has to be avoided.
Some things that your dentist will look for during the initial dental examination are:
Jaw bone density
The health of your gums
The angle of bite
Any possible infection that may be present in adjoining teeth
The patient's ability to heal
Tolerance or acceptance of local anesthesia
Ideal candidates will meet the above criteria and be able to move on to having dental implants embedded immediately preceding tooth extraction or natural tooth loss. The implants are placed right into the empty socket that only moments ago held your own tooth in place. The healing takes place after the entire procedure is complete and the crown is also placed over the implant post. Most patients prefer to opt for immediate dental implants as it saves on time. However, immediate loading of implants have a high chance for failure as there is no sufficient time given for the implant and bone osseo-integration or "fusing".
What are the benefits of dental implants?
Youthful appearance of the face due to maintaining the structure of your face and creating a beautiful smile.
Improves self confidence and freedom from removable prosthesis.
No need to grind good teeth, as in making fixed partial dentures (FPD).
You will be able to speak clearly.
Improves the chewing ability due to restoration of function.
Help in reducing the possibility of gum disease and infection.
Ensure longevity of your remaining teeth.
What can I expect after implant treatment?
Dental implants require the same care as that of natural teeth. Good brushing habits and regular mouth wash is required to maintain good gum health around your dental implants. Periodic visits to your dentist will be needed to monitor the health of your implants.You can use your "implant teeth" in the same way as natural teeth for your regular functions like grinding and chewing.
What are dental implants made of?
Dental implants are normally constructed from titanium, which is a biocompatible material that is approved by the body as well as works as a solid foundation to replace teeth. We only use implants which have been approved by FDA. Various suppliers make extremely various implants for numerous clinical problems. Some dental implants are brief and fat, other are narrow since they have to fit in between front teeth, and some incorporate extremely promptly or can be filled instantly.
How to choose an implant specialist?
Always remember that there is a substantial difference in between "dental professionals who do implants" and "dental implant specialists." Your teeth are as one-of-a-kind as you are. It takes a competent oral professional to place a high quality dental implant in your mouth and ensure long term survival of the implant.
Your dental implant dentist must have education specific to dental implants. This means they have 300 or more hours of postdoctoral or proceeding education and learning pertaining to dental implant dentistry. Dental implants are not "one size fits all." They are complicated, advanced dental devices, and also you must expect your dental implant specialist to have one or more years of experience in the method of implant dentistry.
Ensure that the dental implant specialist you choose, should be verified as well as proficient. At a minimum, this suggests they have shown expertise in dental implant dentistry through an independent, peer-evaluated, bonafide procedure. The dental implant specialist ought to have executed a range of therapies ranging from a replacing tooth to replacing multiple teeth on a variety of various patients.
Ask for recommendation from your dentist to direct you to a good implant specialist in Dubai, if you are confused in deciding your implantologist for replacement of your missing tooth.
What is computer guided implant Surgery?
At our dental practice, we use computer-guided surgery to ensure maximum effectiveness of dental implant placement.  Guided surgery is a process of planning the implant surgery using a computer, a CT image and surgical guide technology. Surgical guides are the latest advancement in dental implant technology.  The use of surgical guides allows us to place the dental implant accurately, precisely and in the ideal position in the bone to increase aesthetics and functionality of your new implants. The benefits of this latest implant technology are precision, higher implant survival rates and ensuring the best aesthetic outcome.
Precise and accurate dental implant placement.  CT scans are taken of the jaw and used to create 3D images.  A specialized computer software uses these images to create a perfect surgical template, which we use to determine the optimal locations and angle for dental implant placement. This helps in allowing us to position the implants to ensure stability and withstand the occlusal force while chewing.
Reducing the risks. Because we can see the entire structure of the jaw, teeth and bone computer-guided implant surgery allows us to assess exactly where the dental implant should be placed. We can see and avoid any important structures like nerves and blood vessels during the implant placement procedure.
Eliminating the need for sutures.  With computer-guided surgery, we can do implants without surgical flaps which are small incisions in the gum tissue. With this new technology, we do not need to see the bone specifically to give us the correct placement for the dental implant.
Reducing actual surgical time. The procedure can be completed faster than traditional dental implant surgery because we create a surgical template on the computer and we can have all the information we need right in front of us.
Better patient understanding.The images that we create with the computer-guided technology allow us to easily explain the process to you and allow you to follow the procedure from start to finish.
Restoring dental function sooner.  With computer-guided implant surgery, we place the implant right away and many patients are able to receive permanent restorations during this same appointment. This ensures the longevity of the implants.
Contact us for a FREE complimentary consultation in our Dental Clinic in Deira, Dubai, UAE!