INVISALIGN in Dubai – Invisible braces treatment.

There are many high quality clear aligner brands available world wide. If you are planning to start your invisalign treatment, now is the right time. Invisible braces from U.S.A and Germany are extremely comfortable and  straighten your teeth in a fast and efficient way. High quality orthodontic treatment with the best invisible braces dentist in Dubai.  Schedule an appointment for a consultation to know more about other high quality German made aligners which are highly affordable and give great results!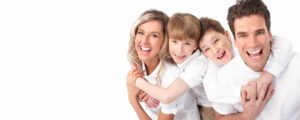 INVISALIGN GOLD PROVIDER IN THE UAE
Dr. Nazeer Ahmed is a certified Advanced Level Gold Provider of invisalign in Dubai. As a leading orthodontist and TMJ specialist with 15 years experience, he has the unique knowledge and skills required to understand all the intricacies that go into straightening your teeth and give you that amazingly beautiful smile you always wanted!
Good smile and functional occlusion is the final treatment goal for any patient who seeks orthodontic care. Dr.Nazeer is experienced in the treatment of complicated malocclusions and will ensure that you get a smile which is not only perfect but functions properly also! You can get your Invisalign treatment at an affordable cost at Orthodontix Dental Clinic in Dubai.
Invisalign is one of the latest, sophisticated and advanced orthodontic treatment, to straighten your teeth. The invisible braces makes use of a series of clear aligners, fabricated by 3 D technology, programmed to move your teeth to their final and perfectly aligned position. The number of aligners usually range between 12 -30 aligners depending on the complication level of your case. High grade malocclusion might even require up to 60 aligners.
Invisalign "Fast Track" treatment aligners help in getting good results at a reasonably short time, compared to the previous generation aligners. They are highly precise and do the desired teeth movement in a painless and gentle way!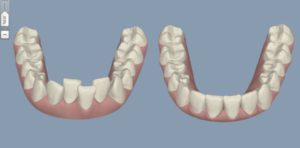 The Advanced 3D customized software technology will scan your teeth or your models and creates a virtual set up of your misaligned teeth. Your orthodontist will work on the soft ware and plan the treatment plan  & the final desired position of the teeth to achieve the best smile and balanced occlusion.
At Orthodontix Dental Clinic, our Specialist Orthodontist Dr. Nazeer will design the stages of teeth movement and you can get to see how your teeth will look at treatment completion in the virtual setup.
What are the benefits of clear aligners?
Invisalign is clear and hides the fact that you are actually wearing "braces". Invisalign aligners are made of smooth and comfortable BPA – free plastic. Their patented Smart-Track aligner material is uniquely versatile and clinically proven to achieve greater than 85% improvement in overall tooth movement predictability, compared to clear aligners of other brands.
Our patients have higher satisfaction with invisalign and feel that the aligners are comfortable and convenient. No significant life style changes are required with Invisalign, since the aligners can be easily removed when eating or brushing. Invisalign needs shorter in-office treatment visits compared to metal braces.
What Malocclusion Can Be Treated By Invisalign?
Invisalign and other German made aligners can correct all orthodontic problems including proclined teeth,  severe dental crowding, spacing between teeth, deep bite, open bite, anterior cross bite and posterior cross bite. It has the unique advantage of able to position your teeth in any 3 dimensional axial inclination and visualize the final bite in the customization soft ware. This means that you and your orthodontist will be able to study your final tooth position in all planes on the clin-check soft ware before the green signal is given for manufacturing your aligners!
New technology has its own advantage! Your orthodontist will be able to analyze and position your back teeth in a balanced occlusion with better precision with the additional help of the clin check software. You can visualize the end result in the soft ware, even before you start wearing your first aligner!
Aligners Treatment In Dubai
You have a whole lot of advantages when you decide to go with one of the award winning and top ranking invisalign provider in Dubai. As an international level invisalign treatment provider for orthodontic patients and celebrities, Dr.Nazeer has a rich experience of 15 years in the world of dentistry. An expert orthodontist and invisalign specialist will always be able to give you a better clinical result anytime, compared to a less experienced dentist!
While we do encourage patients to shop around for the best price invisalign deal, remember not to be fooled by ads offering Invisalign at rock-bottom prices on sites like Groupon. Invisalign is not a commodity to shop around to score the best deal. Invisalign is actually a medical treatment to help you achieve healthy, beautiful teeth.
Invisible braces are not as simple as it seems and needs a technically sound specialist orthodontist  to help you get the result you have in mind!. You need to find the right doctor to work on the case. Believe it or not, moving teeth is complicated and you need an orthodontist to plan and monitor your treatment. It is definitely worth your time to go to an experienced professional and have all the options presented to you, so that you can take a wise decision and get the perfect smile which you always dreamed of!
How Do I Go About My Invisalign Treatment?
Search for a good orthodontist and dental clinic for your invisalign treatment. Read the reviews about the different dental clinics in Dubai and find out the treatment cost  at different clinics in the UAE. Find out the experience of all the orthodontists in your locality and choose the one whom you feel right for you. Once you decide your orthodontist, schedule an appointment for your invisalign consultation and treatment.
Your orthodontist will first take an impression or scan of your teeth and will plan and customize your teeth movements in the virtual set up. He will analyze the initial position of your teeth as well as your bite and will move them to the final desired position in the clin-check software.
Your orthodontist will approve the set up and will give instructions to proceed with the manufacturing of your aligners. You can start using the aligners once they are  ready and you must wear them at least 20- 22 hours a day. You must change to your next aligner as per the instruction of your orthodontist. Your clinical visits are usually every 10-14 weeks but your orthodontist will plan & schedule your appointments depending on the complexity of your case.
I am a tourist in Dubai and will be leaving in a month. Can I do invisalign braces?
Yes! It is possible for you to get your invisalign braces within a month. One of the advantage of doing your Invisalign treatment at Orthodontix Dental Clinic is that you will get the best price for your Invisalign package and will be treated by an highly experienced Invisalign certified Platinum provider. Your orthodontist will design the treatment plan in such a way that all the required procedures will be done on the day your aligners are delivered to you. You will get the entire set of aligners needed for your complete treatment.  All you have to do is to keep changing them back home, every 10 days to 2 weeks as per your orthodontist's prescription.
Once you finish your aligners you can use the last ones as a night time retainer, until you can come back for your next vacation in Dubai! You will be provided with a new pair of retainers on your next Dubai vacation. If you are not in a position to come back to Dubai for your retainers, you have an option of making them with your dentist back home. Your dentist will take an impression of your teeth and will fabricate a pair of retainers for you.
How will invisalign affect my regular life style?
As a celebrity, we know you will have a hectic and busy social life! You can carry on with the same day to day activities you had initially before starting your invisalign treatment. Invisalign will NOT affect your lifestyle. In fact it will compliment your life style!
You will be ready for anything, from meeting your friends, going out with friends for coffee and movie nights.  Just remove them while eating and brush your teeth before putting them back on your teeth. Party hard & simply keep rocking!
Live your life! Enjoy all the sports and games you love without the fear of hurting your lips on the braces. You can brush and floss your teeth as usual without any brackets or wires coming in the way!
The best part is you will need fewer emergency visits as there are no brackets which can break or the risk of poking arch wires. Enjoy all your favorite foods without restriction. Only thing is don't forget to remove them while you eat!
What should I do if I Lose one of my invisalign clear aligner?
You must call your dental clinic and schedule an appointment with your orthodontist. Remember to take your next set of aligners with you. Your orthodontist will ask you to try the next aligner and will check for the fit. If you had lost your previous aligners after wearing them for at least a few days, chances are that the next set will usually fit without much problem. You may continue the next aligner if your orthodontist gives you the green signal! If your luck is really bad and you lost your aligners without wearing them even for a single day, then you must request your orthodontist to re order them for you. Depending on the number of aligners you have lost, you will have to pay for the manufacturing and shipment of your new replacement aligners.
Does invisalign crack or break?
Invisalign is an amazing way for teens and adults to straighten their teeth without sporting a mouth full of metal. However, just like how you take care of your contact lenses, you must take similar care for your aligners. Always keep them in the retainer box the moment you remove them. You may stamp on them accidentally if you keep them on the floor or roll over them if you keep them on your bed after removing them.
According to recent research, adults take more care of their aligners compared to teenagers! Handling your aligners in a careless way is the main reason for cracked or broken aligners. You must wear them and remove them exactly as per the instruction of your orthodontist to avoid potential mishaps!
Can I wear the aligners after they have cracked?
If the crack has not split the entire tray and the aligner is holding together quite well, you can continue to wear them.  Be gentle when you wear and remove your aligners, as the crack can tend to get worse over time if you handle them carelessly.  Remove the aligners carefully to avoid bending them while you are taking them off.  When putting them back on, apply firm and even pressure to avoid placing additional stress on your aligners.
If the split is pretty bad to the point where bending the aligner slightly can't hold its shape, you must NOT wear the aligner.  You won't get any benefits from wearing  a badly damaged aligner.  You must meet your orthodontist immediately to get a replacement aligner. Until you get your replacement aligners, wear your previous aligner to maintain your progress.
Can I super glue my cracked aligners back together?
NO!  Never try to superglue your invisalign back together. It is potentially dangerous to attempt it! The chemicals in most adhesives are often toxic and can cause problems if they are in contact with your oral cavity.
Wearing a cracked aligner fixed with adhesive glue, in your mouth is really bad for your health.  What you should do is, go back to your previous aligner, to avoid losing your progress, and call back your dental clinic to check with your orthodontist for further instruction.
How long does it take to get a replacement for my lost aligner?
It usually takes around 1-2 weeks for you to receive your replacement aligner. You will have to wear your previous aligner until you receive your replacement aligner. There will be an additional charge for the new aligner. You can avoid this situation very easily by taking proper care of your aligners!
Can I drink when wearing my aligners?
Yes. But only cold water! Hot tea or coffee can stain warp your aligners because of the heat and distort them. Sugary drinks and alcohol drinks might lead to plaque buildup and increase the risk of cavities.
Always remember to remove your aligners every time before eating or drinking with the exception of cold water and maybe clear sparkling water!
How to get my clear aligners?
It is always best for you to get your invisalign treatment in Dubai, with an invisalign certified provider and specialist orthodontist. Invisalign requires excellent treatment planning skills and clinical expertise on the part of your orthodontist. The outcome of your smile depends on the orthodontist you select, and there is a very high chance that every orthodontist will give you different outcomes with the same invisalign treatment, depending on their experience. Go to an affordable provider with good experience for the best treatment outcome
Is retainer needed after invisalign treatment?
Retainers are necessary after completion of orthodontic treatment.  They are needed to keep your teeth stable until the teeth & ligaments around your teeth adapt to their new positions and the surrounding bone becomes strong.
If you want your teeth to remain in their ideal position, it is best to wear a retainer as directed by your orthodontist. In most cases your doctor will advise regular night time wear of your retainers when you go to bed. Follow their instructions strictly to prevent relapse.
Special offers for invisalign in Dubai
Occasionally there are invisalign promotions in Dubai, and you can save your money by making use of the promotions. You must keep a keen watch out for the discounts, as most of the invisalign promotions run only for a very short period of time. There is a very high chance that you will miss one if you blink!
Keep looking out for special discount deals & promotions for invisalign treatment in the UAE. You might get lucky and find an offer which is affordable on your pockets. However, don't forget to find out if it is the right choice for you.
What is Invisalign i 7?
For patients who have very minor dental crowding or spacing, correction can be done with 7 aligners for the upper and lower arches. Invisalign i-7 is recommended for very minor malocclusion and the cost will be slightly less due to minimal number of aligners needed for the treatment. However, more than 90% of dental malocclusion cannot be corrected with 7 aligners and most cases will require more aligners for better results. In that case, you will have to pay more for the additional aligners!
It is always advisable to find out from your orthodontist, how many aligners are included in the "promotion price" or "invisalign deal" in Dubai, to avoid surprises later during the treatment process. You must also find out if the dental impression and retainers are also included in the offer price, before you start your aligner treatment.
Can I chew gum while wearing invisalign aligners?
NO. Chewing gums &  bubble gums are strictly prohibited when you are on aligner treatment! Gum will stick to the aligners and it is always recommended to remove your aligners for all snacks and meals. This will prevent damage or distortion to your aligners.
Each aligner is precisely programmed to move your teeth and any damage to the aligner will compromise the aligner fit and the final result. So any activity which can cause distortion of your aligner must be avoided.
Will smoking and chewing tobacco stain the aligner?
It is highly discouraged to use tobacco while wearing your aligners because of the possibility of aligner discoloration. Always remove your aligners when you smoke!
I have open bite. Can invisalign correct my problem?
Open bite is a condition where your upper and lower front teeth do not touch together when you close your mouth. The tongue tends to play in the gap between the upper and lower anterior teeth, worsening the problem. Open bite patients tend to suffer from speech impediments and also can take your negative emotions to a new level.
A few years before, most of the severe open bite cases had to be treated by orthognathic jaw surgery. However, today we have the latest technology to correct severe problems using a non surgical approach. Invisalign is extremely good at correcting open bites and has been scientifically proven.
Unlike the conventional metal braces, Invisalign clear aligners don't use arch wires affixed to metal brackets to correct your smile. Instead, each aligner uses a clear, plastic material called smart track technology to gradually shift your teeth into their proper position.
This material is custom-made for your smile. As you switch to a new pair of aligners during treatment, your current aligners will have a slightly different shape from your previous set, which moves your teeth closer to their proper position.
This innovative design gives your aligners the amazing power to correct your malocclusion—even an open bite.
Can invisalign correct cross bite?
Invisalign is an excellent appliance for correction of both anterior and posterior cross bites. The treatment duration is also less compared to the regular fixed appliances due to the latest smart track technology of invisalign.
The treatment will be extremely predictable and highly comfortable with the aligners gently guiding the teeth in cross bite towards their correct position. Your orthodontist will work on the clin check soft ware to get the best possible dental interdigitation for helping you with comfortable chewing during your aligner treatment. The invisalign clear aligners will help to settle the teeth in the best possible bite and functional occlusion.
Is free parking available for Invisalign patients?
Abundant free parking is available any time for all our dental and orthodontic patients. ORTHODONTIX DENTAL CLINIC is located at DNATA intersection close to Deira City Center. You have free parking available and the dental clinic is easily accessible from almost all locations in Dubai. Make sure to book an appointment for your invisalign consultation to avoid waiting time.
You just arrive, park your car, do your invisalign treatment in style at an affordable price! For people who prefer public transport, Deira City Centre Metro is very close to the dental clinic. It will be a totally wonderful experience without the hassles of trying to find a parking space in a busy location in Dubai.
Invisalign Treatment Time
Clear aligners are 50% faster than before!
Yes! Faster treatment results can be achieved today with invisalign due to the technological improvements and advancements. Minor orthodontic misalignment of the teeth can be easily corrected in 4-6 months with the invisalign fast track technology.
Fast and comfortable invisalign align treatment with successful treatment outcome is a reality today, thanks to technology advancements. Benefit from the invisible clear aligners and correct your crooked smile in an invisible way!
Ask your doctor in Dubai, if your malocclusion can be corrected by fast track invisalign treatment. Schedule an appointment today with our orthodontist at Orthodontix Dental Clinic to find out more!
Can I get a beautiful Smile in 6 Months?
Six months smiles have become a reality thanks to the faster treatment with advanced premium invisalign available with us. It is possible to get an amazing customized smile with invisalign braces with in 6 months in case of simple dental crowding or spacing. It is a fast and convenient way to correct minor malocclusion within a short time without the hassles of traditional fixed braces.
What is Invisalign Teen?
Before invisalign teen was developed, the only available option for the teenager who wanted straight teeth was to go for the traditional fixed braces. That was one of the few reasons why they avoided braces treatment. With the emergence of discreet and transparent invisalign braces, you can enjoy the freedom from braces while straightening your teeth as well as eat all kinds of food. Thanks to the removable aligners, brushing and flossing is easier. It is cheaper and maintenance of excellent oral hygiene is a breeze with invisalign treatment.
Invisalign teen is similar to the normal invisalign aligners and is made specially for the teen age patients, where some of the permanent teeth has not completely erupted.
Some of the differences between invisalign and invisalign teen are
Invisalign teen comes with a blue indicator dot on all the aligners. the purpose of this is to ensure that your kid is wearing the aligners for at least 20 hours every day. The blue dot fades away with pressure and regular wear. So you and your doctor will be able to monitor your child's daily aligner usage.
Invisalign teen has eruption tabs molded in the aligners while fabrication by the CAD CAM machine. This helps in making space for an erupting permanent tooth which has not emerged completely from below the gums.
Invisalign teen comes with 5-6 free replacement aligners for back up as we know that adolescents can sometimes be a little preoccupied with school work and life style activities and may easily lose one of their aligner during their orthodontic treatment course. This is why the extra aligners come handy should they find a particular aligner missing.
I Just Got My Invisalign Aligners! What Next?
You will first try the aligners and your orthodontist will train you regarding the proper way of wearing and removing your aligners. He will also check the aligners for proper fit and comfort. You will be provided with a retainer box to place your aligners and safely store it when you remove them from your mouth.
You will be given valuable instructions and tips on how to clean and maintain your aligners as well as the time period to change to your next aligner. This is an exciting and relatively short appointment and you can clarify all your doubts regarding the care and maintenance for your aligners at this visit!
What is the treatment duration and treatment Cost with invisalign in Dubai?
Clear aligners are highly aesthetic invisible braces and virtually not seen on your teeth by others. So most of the invisalign patients are not very concerned about the treatment duration and simply want to get a great smile! The treatment duration is usually the same or even less than the normal train track braces. The treatment cost of Invisalign depends on the number of aligners needed to get the best result and the average cost for Invisalign in Dubai can range between AED 10,000 to AED 17,000 depending on the malocclusion. However, you must visit your orthodontist for a consultation, to know exactly how many aligners will be required for your orthodontic treatment and to find out the exact treatment fee.
The average treatment duration with clear aligners in the U.A.E ranges between 8 -14 months. However, minor orthodontic problems can be easily corrected with in 4-6 months. Your orthodontist can give you an estimation of your treatment duration after evaluating your malocclusion. Ask for payment plans and many provides are happy to give you zero-percent interest free customized payment terms. Remember to ask about payment in full for Invisalign discount in Dubai. Again, many providers will give you a courtesy discount if you pay in full on day one of your treatment.
Choosing a full case with more aligners option is always better for you compared to Invisalign lite or Invisalign i 7 as you have more aligners to work with for getting the best possible result. Ensure that you are paying a fixed fee for your case, regardless of how many appointments you may need. Many factors determine the total number of appointments you will have, and paying  a fixed fee will almost definitely keep your cost much lower. Make sure your total fee includes everything including consultation, diagnostic records, free dental cleaning before taking impressions and retainers at the completion of treatment. This way you can ensure that you get the best deal for Invisalign treatment in Dubai!
What Should I Expect On The First Day?
You may actually be surprised to notice how closely they fit to the teeth and how difficult it is to see the aligners once you wear it. The fit will become even closer once your teeth start to move and the aligners start to adapt even better with each passing day! Most of the patients get used to the aligners very easily.
Mild increase in salivation might be there for the first few hours once you start wearing your aligners.  This is actually a reflex reaction because your mouth thinks that it is food and this phenomenon goes away after a few hours of aligner wear.
Speech difficulty is noticed in some patients for the first few days and is usually seen as a lack of clarity to certain sounds. Just practice those sounds or letters for the first two days with your aligners on the teeth and you will be fine after that!
Is Invisalign Treatment Painful?
Aligners have to apply pressure on your teeth to slowly guide them to their final position. This pressure might be perceived by the patients in different grades depending on the pain threshold or pain tolerance of the patient. This pressure will usually be perceived as mild to moderate discomfort to most of the patients.
If you have to grade the pain or discomfort over a scale of 1-10 then most of the patients will rate the discomfort between 3-4 on the first few days of starting to use the aligners. After 2 or 3 days, the discomfort will be negligible or barely noticeable for the patient. Invisalign patients get used to the aligners very fast!
How to find the best Invisalign Dental Clinics in Dubai?
Search for an authorized invisalign provider in Dubai. Ensure that your orthodontist has good experience with the invisalign system. Ask your friend or family for recommendations. Find out the treatment cost. Do your home work before deciding your doctor!
Does invisalign really Work?
"Dr. Nazeer. Can you please explain how can a piece of plastic move my teeth?" This is one of the first question asked by almost all the orthodontic patients who come for an orthodontic consultation. "Two of my friends did invisalign, one was very happy with the final smile and the other did not get great results. Why? Do you think it will work in my case?" This is another question asked by a few and is a very valid one. And remember, these are all highly educated and tech savvy patients who have done their research on Google before meeting the orthodontist. Is Invisalign or any other high quality clear aligner brand really unpredictable in terms of results? It is a good question!
There has been much hype surrounding clear aligners treatment all over the world since its launch and the hype has grown in the last 2 years as the technology becomes more recognized among dentists and orthodontists. In 2020, almost all the orthodontic patients want to get their smile correction done by clear aligners.
German and U.S clear aligner brands spend lot of dollars in fine tuning their product to achieve more and more better results with each passing year. In 2020, Invisalign treatment is more precise and faster compared to 10 years back due to the continuous research which Invisalign painstakingly do for continuous product improvement.
Here is the fact! Aligners work perfectly every single time and gives excellent clinical results, if you choose the right Orthodontist! An orthodontist who got his invisalign certification 8 years back and another orthodontist who has just got recently certified, are NOT equal in terms of expertise with the product.
The experience of the orthodontist plays an important part in the successful outcome of your treatment results, be it regular braces or Invisalign. A dentist who does invisalign and a certified specialist orthodontist who does invisalign might give different results with the same invisalign simply due to the fact that orthodontists have specialized in helping patients with the alignment of their teeth, improving their bite and establishing a stable and functional occlusion. It is not a secret that with experience, the orthodontist will be able to give better and better results with Invisalign & you simply have to find the right one for your treatment!
Why are clear aligners popular in Dubai?
It is simply due to the fact that they are highly comfortable and correct your crooked teeth in a precise way using the 3D software technology without anybody coming to know that you are aligning your teeth. No wires and no metal to show others! No restrictions about which food you can eat. Simply remove them while eating.  Maintaining oral hygiene is easy. No doubt why the invisible braces are so popular in the UAE.
Is Invisalign Better Than Braces?
It is like comparing apples with oranges! Remember that Invisalign and Braces are two different appliances for correction of your malocclusion. It is not proper to say that one is better than the other! Both have their own advantages and drawbacks in different kinds of malocclusion. An expert orthodontist who is well experienced in both invisalign and braces, will be able to give the same kind of result irrespective of the appliance used!
So when is invisalign selected as a treatment choice by your orthodontist? It all depends on the aesthetic needs of the patient. Metal braces and ceramic braces are not preferred by some patients, who are always in the public eye like celebrities, CEO,  Public Relation Managers and teachers.  In such situations, invisalign will be a good treatment option compared to braces!
Affordable Clear aligners
Do you feel that invisalign is expensive?  You don't have to dig deep into your savings for your clear aligner treatment. Most of the dental clinics will have an affordable treatment fee and a payment plan which will be easy on your monthly budget.
Yes! You don't have to pay the full treatment fee in a single visit. You can divide it and pay on a monthly basis. Ask your orthodontist for more information regarding the different payment plans available for your invisalign treatment!
Unleash The Advantage of K- Line Platinum!
The K-Line Europe platinum advantage gives you plenty of amazing and wonderful options to choose from. The German made high quality precision aligner system is a wonderful product which is technically sophisticated with high aesthetic elegance!  These aligners are extremely clear, very thin and customized to adapt exactly to the contours of your teeth. They are very comfortable and do not press on your gums as they fabricated to avoid your gum line. They are even better than invisalign in terms of comfort and affordability!
The latest technological advances in clear aligner makes it an extremely potent tool for the treatment of complicated malocclusions when 3 dimensional control of the teeth is required. If there is a weak tooth where force must be avoided, your German made K-Line aligners can be fabricated to avoid applying any force on to the weak tooth!
Magic, isn't it? That's not all! You can use them in teenagers, and is aptly named as the aligner-teen! It doesn't stop with that and gets even more better! You also get the platinum warranty with your treatment! You can talk to your orthodontist and know more about the advantages of choosing to do your orthodontic treatment with the NEW German technology affordable aligners!
Are There Any Disadvantages With Invisalign?
Any appliance will have its drawbacks and invisalign is not an exception! When you initially wear the aligner for the first time, you will find it difficult to articulate your words and speak clearly. However, it is a temporary issue with any appliance and will disappear on its own within 2-3 days as you get used to it. The second drawback is that invisalign will work only when it is inside your mouth and not resting inside your cupboard or retainer box!
It is a removable appliance and you are in total control of the time you are going to use it! Sincerity and dedication is the key for treatment success! You must wear them for a minimum 20 – 22 hours a day for it to be effective. Improper aligner wear  or using them for a fewer hours will not give the best results and will prolong the treatment duration.
Should I brush my teeth before wearing the aligners?
Yes! You must brush your teeth every time after food, before you wear the aligners back again! This is to ensure that no food gets trapped between your teeth and the aligner. It's not good when people stop to stare at trapped food on your teeth, that shows through your transparent aligner. Brushing your teeth will also help to remove plaque and avoid cavities! So brushing isn't really a bad thing, right?
How many patients have been treated by invisalign?
More than 6 million people have been  successfully treated world wide by this new treatment technique and the numbers keep growing with each passing day, eventually reaching the 7 million mile stone very soon by the year 2021!
What material is the invisalign clear aligner made of and how does it look?
The highly clear and transparent aligners are made of high quality medical grade thermoplastic material uniquely developed for the invisalign system. The aligners are designed and fabricated by CAD CAM. They are customized for your teeth and will fit snugly over them with absolute comfort.
How often is the review appointments for invisalign?
Appointment intervals are generally more convenient when compared with traditional braces.  The appointments are also much quicker with less time spent in the orthodontists' chair during appointments as no adjustments need to be made to wires/brackets.  Patients typically visit their Invisalign Provider every 6 to 8 weeks to ensure the treatment is progressing as planned and to receive their next few sets of Invisalign aligners. In difficult cases with complicated malocclusions, your Invisalign Provider will decide the treatment interval based on your treatment progress.
What is the invisalign treatment duration?
The total duration of treatment depends on the complexity of your malocclusion and is generally comparable to that of traditional braces or slightly less. In most cases the treatment can usually last between 6 and 18 months. During your consultation, your Invisalign Provider will evaluate your problem and will provide you with more detailed information regarding the estimated treatment duration.
I have finished all my initial aligners! Is my  invisalign treatment over?
Your treatment will not be over once you finish the first set of aligners. In most cases, refinement aligners will be required to fix any stubborn teeth and to improve the finish. Your orthodontist will decide if refinements will be needed or not, once you complete the first set of aligners. This is exactly the reason why you must choose a provider and a plan which provides you for extra refinement aligners, without any additional super added cost! Be smart and ask your orthodontist to give you an "unlimited aligner package", so that there are no surprises for you later in the middle of your treatment! If they refuse to give that package, it is wise to walk away! Refinement is always done in your best interest by your orthodontist, in order to achieve the best possible clinical result and smile! The good news is refinements do not take as long as your initial aligners and can be completed within 2-3 months in most of the cases. However, severe malocclusions might need more refinements and your orthodontist will advise you depending on the severity of your malocclusion and the treatment progress.
Tips for Clear Aligner Users:
Here are some helpful tips to ensure proper aligner use and to avoid damage to your aligners.
Always Remember To
Wear your aligner as per your doctor's instruction, usually 20-22 hours a day.
Wash your hands thoroughly with soap and water before handling your aligners.
Handle only ONE aligner at a time.
Rinse your aligners when removing them from the packaging.
Aligner insertion Care:
Make sure you have the proper aligner – the upper for your top teeth and the lower for your bottom teeth.
To help avoid confusion, each invisalign aligner is engraved with your unique case number, a "U" for upper and "L" for lower, follower by the stage number.
You may insert either the upper or lower aligner first. When inserting each aligner, gently push the aligners over your front teeth. Then apply equal pressure, using your finger tips, to the tops of your left and right molars (back teeth) until the aligner snaps into place.
Do NOT bite your aligners into position. This may damage them.
Aligner Removal Tips and Procedure:
On one side of your mouth, use your finger tip on the inside of your back molar to slowly pull the aligner from your molars.
Repeat the process on the other side of your mouth before trying to completely remove the aligner.
Once the aligner is disengaged from the back teeth on both sides of your mouth, you should be able to slowly work your way forward, gently prying your aligner away from the teeth, with your finger tips.
Aligner Maintenance Tips:
Immediately rinse aligner with water, shake off excess water and store your aligners in  the protective case provided with your starter kit.
To help prevent damage to the aligners, avoid unnecessary removal.
Never wash your invisalign aligners in HOT water! It can warp the aligner and will compromise the fit.
Take care in removing your aligners, especially if multiple attachments are being used.
Do NOT use excessive force to bend or twist an aligner to get it off.
Do NOT use any sharp object to remove your aligners. It can damage them.
Consult your doctor if your aligners are extremely difficult to remove.
The Twenty First Century Aligner Revolution In Orthodontics!
In 2022, the Middle east is one of the top markets of Aligners. The other top markets today for invisible braces are the U.S.A and Europe.  Recently Japan and Canada are emerging as one of the top 5 markets for  invisible braces. Clear aligners have changed orthodontics in a way which no other appliance was able to replicate. Freedom from the metal train track braces and extreme comfort are the two main advantages of these invisible braces, which played an important role in the rise and success of these aligners in the field of orthodontics. But the fact remains that you still need a very good orthodontist to get the best out of your aligner treatment!
Do You Know You Can Optimize the Force Level in Your Aligners?
Invisible braces treatment is extremely comfortable and the force level applied by the aligners on your teeth is easily tolerable. The aligners are usually programmed to apply mild pressure and move your teeth by 0.33 mm with each aligner you use.
However there are some rare patients who have a lower pain threshold and are really worried about how they will be able to cope up with the orthodontic treatment.  Such patients can request their orthodontist to customize and reduce the force levels on the aligners for them. Force level can be also be reduced for patients with periodontal problems and those who have bone loss around the teeth.
This means that, instead of moving your teeth by 0.33 mm with each aligner, your orthodontist will program the software settings to apply less pressure and moving them in 0.28 or 0.30 mm increments. This force level optimization advantage is extremely useful for patients who have less bone support around their teeth and those who have a low tolerance to pain.
Know more about optimal force level customization in Clear aligners from your orthodontist! Book a free Invisalign consultation with us at Orthodontix Dental Clinic, Near Deira City Centre Dubai.