ORTHODONTIC TREATMENT IN DUBAI
Are You Searching For a Good Orthodontist For Your Orthodontic Treatment?
Crooked and irregular teeth can pose an aesthetic problem for many patients in Dubai.  An orthodontist is the right person to treat your problem and help you get the best smile and functional occlusion. At Orthodontix Dental Clinic, near Deira City Centre, we offer high quality braces treatment by experienced specialists with 15 years experience at highly affordable cost. Today with advanced high quality braces and  titanium arch wires, your braces treatment will be comfortable.  You can pay AED 1000 and start your metal braces treatment. The rest of the balance can be paid in easy monthly installments during your braces follow up adjustment visits. Schedule a free consultation with our highly experienced braces dentist in Dubai.
There are many types of orthodontic fixed appliance available today, thanks to the latest advances in the field of science & technology! Orthodontic fixed appliances are precision devices attached or bonded to the patient's teeth and are able to bring about controlled tooth movement.
Teeth can literally be moved in any direction and  it requires a highly skilled & experienced specialist orthodontist to position them in the right way safely without unwanted potential complications.  Invest your time and money in the right orthodontist, to get the best treatment result!
Metal Braces Dubai– Cost & Treatment Time
Traditional orthodontic fixed appliances are quite popular in the U.A.E and are manufactured from high quality polished stainless steel or titanium. The main reason why they are popular even today is because they offer a reliable, highly effective and economical treatment option for many patients who want high quality cheap braces in Dubai. You also need a good orthodontist to work on the braces and adjust them at monthly follow up review appointments to get the best results.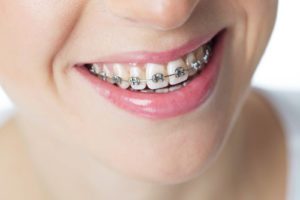 The cost of your orthodontic treatment depends on the complication of your malocclusion as the total treatment duration of your case depends on the severity of your crowding or spacing. Many patients ask over the phone about the estimated treatment fee & duration for their orthodontic treatment. The treatment cost for metal braces is around AED 6000. The treatment fee can be higher for complicated malocclusions as they might need more treatment time and visits.
At Orthodontix Dental Clinic, we have experienced dentists and orthodontists, who have the required skills to give you the smile which you always wanted! Our team of talented orthodontists have treated more than 3000+ cases and have given excellent clinical results every single time! Dr. Nazeer is the head orthodontist and leads the Orthodontics department with passion and perfection at Orthodontix Dental Clinic.  His unique multidisciplinary background in general and cosmetic dentistry, combined with his Orthodontic mastery, gives him the ability to provide you the perfect smile you are looking for!
No orthodontist will be able to give you the exact estimate of your orthodontic treatment fee, without actually seeing your mouth & evaluating the problem! It's like asking a car mechanic over phone about the estimated cost of repairing your car, when in fact he has not yet seen it!
Everyone wants the cheapest & best braces treatment in Dubai! Understand that cheap braces might NOT always be the best. You invest your time and money in a good quality braces system & an experienced orthodontist to enjoy the best clinical result and smile!
High quality premium braces are NOT always expensive and you can get the best braces at an affordable cost in Dubai at Orthodontix Dental Clinic. You have an easy monthly payment plan for your orthodontic treatment Dubai. Good quality braces give excellent comfort and good treatment finish they help to achieve. After all, you do your orthodontic treatment only once!
High Quality Ceramic braces & Cost in Dubai
Ceramic braces are tooth colored cosmetic braces which blend with the teeth due to the color of their material.  Ceramic braces are less visible to others and is a popular choice among adult patients seeking orthodontic treatment.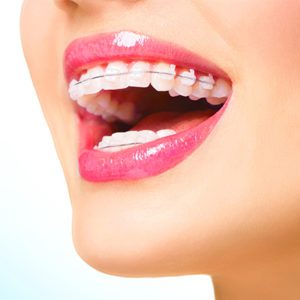 At Orthodontix Dental Clinic near Deira City Centre Dubai, we have highly experienced orthodontists to fix your smile. We offer high quality ceramic braces treatment at an affordable cost. The starting price of ceramic braces in Dubai is an initial down payment of AED 2000 only. You can pay the remaining amount in easy monthly installments over a period of 8-14 months. Ceramic brackets usually have elastic ties or modules, to hold the arch wire into the bracket slot. Several types of poly crystalline and mono crystalline ceramic braces are currently available in the market. Ceramic braces tend to cost a little more than their metal counterpart, but for most of the patients the benefit of having a more inconspicuous appliance outweighs the cost.
Though their aesthetic appeal is unrivaled by the traditional metal braces, they have their own draw backs. They are less durable than metal braces and are extremely brittle. Frequent fractures of these brackets are common when eating hard foods.
The ceramic brackets do not stain but the clear elastics or modules which hold the arch wire to the braces tend to stain. It is not a big drawback as the clear modules are replaced every month. You cannot prevent the staining or the clear modules, however your orthodontist can give you some great tips to reduce the stain.
Recent research shows that ceramic braces have more friction and can increase the treatment time by 2-3 months compared to metal braces. This is considered as one of the minor drawback of ceramic braces.
The ceramic braces are extremely hard and they can cause attrition or fractures of the enamel if the brackets come in direct contact with your teeth while biting and chewing. They are NOT recommended if you have a very deep bite to start with.
Braces are no longer only for children and it's never too late for braces!
Even if you have had braces before, mild irregularities or crowding may have developed due to lack of retainer wear. In this case a short course of orthodontic treatment can return your teeth back to perfect alignment again.
As long as your teeth and gums are in good health, there are no real age limits to orthodontic treatment. Even if these complicating factors are present, referral can be made to a periodontist or another specialist for sorting it out before starting your orthodontic treatment. With a team approach, a comprehensive plan can be made in order to improve your smile, dental health, occlusion, function and facial appearance.
We offer cutting edge techniques and the latest in cosmetic braces such as Damon braces, highly popular transparent aligners like Invisalign and the very discrete lingual braces. During your initial consultation we pay particular attention to your expectations as well as treatment needs and we try to give the exact outcome you want!
With treatment times as little as 6 months to a year, we tailor customized treatment plans to suit your individual requirements because we understand that each patient is a celebrity and is unique!
What is the cost of braces treatment in Dubai?
The average cost ranges between AED 3000 to up to AED 8,000 depending on which kind of braces you opt for as well as the complication level of your malocclusion. The average braces treatment duration is usually around 12-18 months. However mild problems can easily be treated in 6 months while extremely severe malocclusions might take up to 2 years. Your orthodontist is the best person to tell you how long will be your estimated treatment duration. You can get to pay your treatment fee in monthly installments, which will make your orthodontic treatment in Dubai highly affordable. Schedule an appointment with Dr. Nazeer to know more about the different options available for you!