INVISIBLE BRACES TREATMENT IN DUBAI
Best Dental Clinic Near City Centre Deira for Top Quality Invisalign Braces!
If you are planning to start your invisalign treatment, now is the right time. Invisible braces are extremely comfortable and  straighten your teeth in a fast and efficient way. High quality orthodontic treatment with the best invisible braces dentist in Dubai.   Schedule an appointment & get your confident Hollywood Smile today!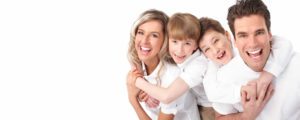 AUTHORIZED INVISALIGN PLATINUM & GOLD PROVIDER IN THE UAE
Dr. Nazeer Ahmed is a certified Advanced Level Gold Provider of invisalign in Dubai. As a leading orthodontist and TMJ specialist, he has the unique knowledge and skills required to understand all the intricacies that go into straightening your teeth and give you that amazingly beautiful smile you always wanted!
Good smile and functional occlusion is the final treatment goal for any patient who seeks orthodontic care. Dr.Nazeer is experienced in the treatment of complicated malocclusions and will ensure that you get a smile which is not only perfect but functions properly also!
Invisalign is the latest, sophisticated and most advanced orthodontic treatment available today, to straighten your teeth. Invisalign invisible braces makes use of a series of clear aligners, fabricated by 3 D technology, programmed to move your teeth to their final and perfectly aligned position. The number of aligners usually range between 12 -30 aligners depending on the complication level of your case. High grade malocclusion might even require up to 60 aligners.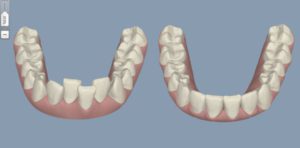 The Advanced 3D customized software technology will scan your teeth or your models and creates a virtual set up of your misaligned teeth. Your orthodontist will work on the soft ware and plan the treatment plan  & the final desired position of the teeth to achieve the best smile and balanced occlusion.
Dr. Nazeer will design the stages of teeth movement and you can get to see how your teeth will look at treatment completion in the virtual setup.
What Malocclusion Can Be Treated By Invisalign?
Invisalign can correct all orthodontic problems including proclined teeth,  severe dental crowding, spacing between teeth, deep bite, open bite, anterior cross bite and posterior cross bite. It has the unique advantage of able to position your teeth in any 3 dimensional axial inclination and visualize the final bite in the customization soft ware. This means that you and your orthodontist will be able to study your final tooth position in all planes on the clin-check soft ware before the green signal is given for manufacturing your aligners!
New technology has its own advantage! Your orthodontist will be able to analyze and position your back teeth in a balanced occlusion with better precision with the additional help of the clin check software. You can visualize the end result in the soft ware, even before you start wearing your first aligner!
Best Invisalign In Dubai – Top Ranking Invisalign Specialist!
You have a whole lot of advantages when you decide to go with one of the award winning and top ranking invisalign provider in Dubaii. As an international level invisalign treatment provider for orthodontic patients and celebrities, Dr.Nazeer has a rich experience of 15 years in the world of dentistry. An expert orthodontist and authorized invisalign platinum specialist will always be able to give you a better clinical result anytime, compared to a less experienced dentist!
Invisalign is not as simple as it seems and needs a technically sound specialist orthodontist  to help you get the result you have in mind!. You need to find the right doctor to work on the case. Believe it or not, moving teeth is complicated and you need an orthodontist to plan and monitor your treatment. It is definitely worth your time to go to an experienced professional and have all the options presented to you, so that you can take a wise decision and get the perfect smile which you always dreamed of!
How Do I Go About My Invisalign Treatment?
Search for a good orthodontist and dental clinic for your invisalign treatment. Read the reviews about the different dental clinics in Dubai and find out the treatment cost  at different clinics in the UAE. Find out the experience of all the orthodontists in your locality and choose the one with the right experience. Once you select your orthodontist, Schedule an appointment for your invisalign treatment.
Your orthodontist will first take an impression or scan of your teeth and will plan and customize your teeth movements in the virtual set up. He will analyze the initial position of your teeth as well as your bite and will move them to the final desired position in the clin-check software.
Your orthodontist will approve the set up and will give instructions to proceed with the manufacturing of your aligners. You can start using the aligners once they are  ready and you must wear them at least 20- 22 hours a day. You must change to your next aligner as per the instruction of your orthodontist. Your clinical visits are usually every 10-14 weeks but your orthodontist will plan & schedule your appointments depending on the complexity of your case.
How will invisalign affect my regular life style?
As a celebrity, we know you will have a hectic and busy social life! You can carry on with the same day to day activities you had initially before starting your invisalign treatment. Invisalign will NOT affect your lifestyle. In fact it will compliment your life style!
You will be ready for anything, from meeting your friends, going out with friends for coffee and movie nights.  Just remove them while eating and brush your teeth before putting them back on your teeth. Party hard & simply keep rocking!
Live your life! Enjoy all the sports and games you love without the fear of hurting your lips on the braces. You can brush and floss your teeth as usual without any brackets or wires coming in the way!
The best part is you will need fewer emergency visits as there are no brackets which can break or the risk of poking arch wires. Enjoy all your favorite foods without restriction. Only thing is don't forget to remove them while you eat!
What should I do if I Lose one of my invisalign clear aligner?
You must call your dental clinic and schedule an appointment with your orthodontist. Remember to take your next set of aligners with you. Your orthodontist will ask you to try the next aligner and will check for the fit. If you had lost your previous aligners after wearing them for at least a few days, chances are that the next set will usually fit without much problem. You may continue the next aligner if your orthodontist gives you the green signal! If your luck is really bad and you lost your aligners without wearing them even for a single day, then you must request your orthodontist to re order them for you. Depending on the number of aligners you have lost, you will have to pay for the manufacturing and shipment of your new replacement aligners.
Does invisalign crack or break?
Invisalign is an amazing way for teens and adults to straighten their teeth without sporting a mouth full of metal. However, just like how you take care of your contact lenses, you must take similar care for your aligners. Always keep them in the retainer box the moment you remove them. You may stamp on them accidentally if you keep them on the floor or roll over them if you keep them on your bed after removing them.
According to recent research, adults take more care of their aligners compared to teenagers! Handling your aligners in a careless way is the main reason for cracked or broken aligners. You must wear them and remove them exactly as per the instruction of your orthodontist to avoid potential mishaps!
Can I wear the aligners after they have cracked?
If the crack has not split the entire tray and the aligner is holding together quite well, you can continue to wear them.  Be gentle when you wear and remove your aligners, as the crack can tend to get worse over time if you handle them carelessly.  Remove the aligners carefully to avoid bending them while you are taking them off.  When putting them back on, apply firm and even pressure to avoid placing additional stress on your aligners.
If the split is pretty bad to the point where bending the aligner slightly can't hold its shape, you must NOT wear the aligner.  You won't get any benefits from wearing  a badly damaged aligner.  You must meet your orthodontist immediately to get a replacement aligner. Until you get your replacement aligners, wear your previous aligner to maintain your progress.
Can I super glue my cracked aligners back together?
NO!  Never try to superglue your invisalign back together. It is potentially dangerous to attempt it! The chemicals in most adhesives are often toxic and can cause problems if they are in contact with your oral cavity.
Wearing a cracked aligner fixed with adhesive glue, in your mouth is really bad for your health.  What you should do is, go back to your previous aligner, to avoid losing your progress, and call back your dental clinic to check with your orthodontist for further instruction.
How long does it take to get a replacement for my lost aligner?
It usually takes around 1-2 weeks for you to receive your replacement aligner. You will have to wear your previous aligner until you receive your replacement aligner. There will be an additional charge for the new aligner. You can avoid this situation very easily by taking proper care of your aligners!
Can I drink when wearing my aligners?
Yes. But only cold water! Hot tea or coffee can stain warp your aligners because of the heat and distort them. Sugary drinks and alcohol drinks might lead to plaque buildup and increase the risk of cavities.
Always remember to remove your aligners every time before eating or drinking with the exception of cold water and maybe clear sparkling water!
Is retainer needed after invisalign treatment?
Retainers are necessary after completion of orthodontic treatment.  They are needed to keep your teeth stable until the teeth & ligaments around your teeth adapt to their new positions and the surrounding bone becomes strong.
If you want your teeth to remain in their ideal position, it is best to wear a retainer as directed by your orthodontist. In most cases your doctor will advise regular night time wear of your retainers when you go to bed. Follow their instructions strictly to prevent relapse.
Special offers for invisalign in Dubai
Occasionally there are invisalign promotions in Dubai, and you can save your money by making use of the promotions. You must keep a keen watch out for the discounts, as most of the invisalign promotions run only for a very short period of time. There is a very high chance that you will miss one if you blink!
Keep looking out for special discount deals & promotions for invisalign treatment in the UAE. You might get lucky and find an offer which is affordable on your pockets. However, don't forget to find out if it is the right choice for you.
Can I chew gum while wearing invisalign aligners?
NO. Chewing gums &  bubble gums are strictly prohibited when you are on aligner treatment! Gum will stick to the aligners and it is always recommended to remove your aligners for all snacks and meals. This will prevent damage or distortion to your aligners.
Each aligner is precisely programmed to move your teeth and any damage to the aligner will compromise the aligner fit and the final result. So any activity which can cause distortion of your aligner must be avoided.
Will smoking and chewing tobacco stain the aligner?
It is highly discouraged to use tobacco while wearing your aligners because of the possibility of aligner discoloration. Always remove your aligners when you smoke!
Super fast Invisalign Treatment – A reality today!
Invisalign is 50% faster than before!
Yes! Faster treatment results can be achieved today with invisalign due to the technological improvements and advancements. Minor orthodontic misalignment of the teeth can be easily corrected in 4-6 months with the invisalign fast track technology.
Fast and comfortable invisalign align treatment with 100% successful treatment outcome is a reality today, thanks to technology advancements. Benefit from the invisible clear aligners and correct your crooked smile in an invisible way!
Ask your doctor in Dubai, if your malocclusion can be corrected by fast track invisalign treatment. Schedule an appointment today with our orthodontist at Orthodontix Dental Clinic to find out more!
Is Invisalign Treatment Painful?
Aligners have to apply pressure on your teeth to slowly guide them to their final position. This pressure might be perceived by the patients in different grades depending on the pain threshold or pain tolerance of the patient. This pressure will usually be perceived as mild to moderate discomfort to most of the patients.
If you have to grade the pain or discomfort over a scale of 1-10 then most of the patients will rate the discomfort between 3-4 on the first few days of starting to use the aligners. After 2 or 3 days, the discomfort will be negligible or barely noticeable for the patient. Invisalign patients get used to the aligners very fast!
How to find the Invisalign Dental Clinics in Dubai?
Search for an authorized invisalign provider in Dubai. Ensure that your orthodontist has good experience with the invisalign system. Ask your friend or family for recommendations. Find out the treatment cost. Do your home work before deciding your doctor!
Are There Any Disadvantages With Invisalign?
Any appliance will have its drawbacks and invisalign is not an exception! When you initially wear the aligner for the first time, you will find it difficult to articulate your words and speak clearly. However, it is a temporary issue with any appliance and will disappear on its own within 2-3 days as you get used to it. The second drawback is that invisalign will work only when it is inside your mouth and not resting inside your cupboard or retainer box!
It is a removable appliance and you are in total control of the time you are going to use it! Sincerity and dedication is the key for treatment success! You must wear them for a minimum 20 – 22 hours a day for it to be effective. Improper aligner wear  or using them for a fewer hours will not give the best results and will prolong the treatment duration.
Do You Know You Can Optimize the Force Level in Your Invisalign?
Invisalign treatment is extremely comfortable and the force level applied by the aligners on your teeth is easily tolerable. The aligners are usually programmed to apply mild pressure and move your teeth by 0.33 mm with each aligner you use.
However there are some rare patients who have a lower pain threshold and are really worried about how they will be able to cope up with the orthodontic treatment.  Such patients can request their orthodontist to customize and reduce the force levels on the aligners for them.
This means that, instead of moving your teeth by 0.33 mm with each aligner, your orthodontist will program the software settings to apply less pressure and moving them in 0.28 or 0.30 mm increments. This force level optimization advantage is extremely useful for patients who have less bone support around their teeth and those who have a low tolerance to pain.
Know more about optimal force level customization in Invisalign from your orthodontist!