Best Dentist in Dubai
Dr. Sarvar Aminov is one of the highly recommended dentist in Dubai and is available for  consultation at ORTHODONTIX DENTAL CLINIC Dubai. He is an expert in painless dentistry and moved to Dubai after working in a successful private clinic in Russia. He has a 16 year experience in the field of dentistry and has gained the reputation as one of the best dentist in the U.A.E.
Dr. Sarvar obtained his bachelor's degree in Dental Surgery at First Tashkent Medical Institute, then he did his PhD in Prosthodontics  in Tashkent Medical Academy. After completing his Post Graduation in the department of Prosthodontics from the prestigious university, he did his diploma in Implant Dentistry. He has added many feathers to his cap by doing fellowships and  attending many training courses in Cosmetic & Aesthetic dentistry, Operative Dentistry, Endodontics and Implant Dentistry. He is one of the few dentists in Dubai having expertise in Microscope Dentistry and Laser Dentistry.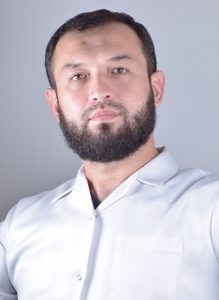 Working as a Dentist from 2004, Dr. Sarvar gained extensive clinical experience using the latest treatment process and technology. He has expertise in all kinds of cosmetic dentistry, including Digital Smile Designing, Hollywood Smile and Veneers. Dr. Sarvar is fluent in English, Arabic and Russian.
He is experienced in all kinds of Veneers including Nano Veneers, Ultra thin veneer, Lumineers, E Max Veneers, Bright White Bleach Shade Veneers and Natural Look Veneers. He is an expert in Digital Smile Designing and will ensure that you get the best possible smile,  when you decide to do your Hollywood Smile in Dubai at Orthodontix Dental Clinic.
His special skills involve minimal teeth preparation and giving the most natural looking Smile makeover for all his veneer patients. His excellent hand skill makes him give professional Dental treatment and highly aesthetic treatment result for his patients.
He treats all kinds of dental problems including general dentistry, teeth fillings, Root Canal treatment, teeth whitening procedures, dental extractions, wisdom teeth removal, Cosmetic dentistry and replacement of missing teeth with dental crowns. Dr. Sarvar believes in painless dentistry and takes special care of his patients. He makes it a habit to ensure his patient's comfort & does his dental treatment in the most gentle manner possible and in a painless way!
He regularly updates his knowledge by attending various International Conferences and has presented research & Clinical papers world wide in many Dental Conferences. Having worked as a dental faculty in a renowned Dental University, Dr. Sarvar is held in high regard by his peers and students. His sound knowledge, passion for Dentistry and eagerness to adapt to the latest technological advancements in the field of dentistry, makes him deliver excellent high quality treatment results every single time!
Located in the heart of Dubai, Orthodontix Dental Clinic is easily accessible both metro and personal transport. Al Muraqqabat,  Al Ghurair Mall, Hor Al Anz, Port Saeed and Al Rigga, are close to Deira City Center and easily approachable. We provide the best affordable dental care in Dubai.
Schedule an appointment with Dr. Sarvar at Orthodontix Dental Clinic for all your dental treatment needs!
Click here to book an appointment….